Discover more from Beagle Voyage with Jane Liaw
For you who like travel; reflections on parenting; experiments with schooling; curious stories of science, wonder, and fascinating people; and some Pretty Good Things I recommend
Snow day
It's whiter and colder than usual here in Vancouver.
Hello, friends.
I hope you are all well. Here's a short note from me, during a busy week.
It's been snowing a lot in North Vancouver.
Taz says it "feels more like Canada," because to him, Canada winters are very cold and white, not sort-of-cold and wet. The air does have a dryness that it doesn't usually, and it smells very clean, without even the mossy smells I sometimes get a whiff of around here. I like looking out our apartment window down onto the street, and watching the tiny tots in their pillowy snowsuits tromping around in powdery mounds almost as tall as they are.
I think Taz is enjoying this "real Canada." Beanie is as well. Though now she's complaining that it's snowing too much, I can tell she likes it. Yesterday the schools had a snow day, and she went over to her friend Lulu's house to play. They rolled down the hill, had snowball fights, and splashed in the creek by their house. Beanie's snow pants and jacket were completely soaked by the end of the day. A good time was had by all.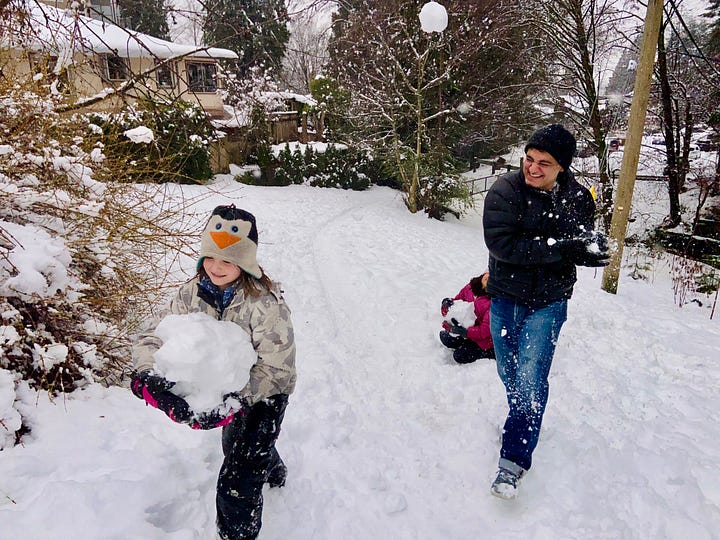 These Vancouver winter days aren't quite like the winter days of Ontario though—as the temperature hovers around freezing, some of the snow melts during the warmest part of the day. Our balcony railing had four-inch-tall snow piles after the first night; they dripped steadily into nothingness the next morning. From sunrise onward, big white balls thud to the ground intermittently from the branches of Douglas fir trees, until the trees are all green again by the afternoon. This cycle has happened every day since Saturday. This week, the first thing I've done after waking up is look out at the rows of fir trees to see if the night has brought more snow; when I see that it has, I get a little thrill.
The year we lived in Ontario, by March I was quite ready for the snow to go away. It had come in the autumn and settled in, blanketing everything around us—over and over—and I wanted to be done with it. Here in North Vancouver, I wake to see the results of our latest snowfall and I say to Taz excitedly, "It feels like Christmas!" And he agrees that it does feel like Christmas.
There's one more snowfall forecasted tonight, and then the rains are moving in. By the end of the week, there will be nothing left of any of this. We will return to the wet and gray, and I'll look back fondly to this snowy respite, recognizing it as beautiful because it was so brief.
Pretty Good Things
Avoiding SAD
Winter is waning, but with this unusually cold weather in many parts, it doesn't feel like it is so. Here is an article by a nutritional neuroscientist about seasonal affective disorder (or SAD), with some suggestions on how to avoid it. Most of it is common sense, though there are a few tips worth noting:
Try to get at least one hour of natural light during the early morning hours, preferably about one hour after your usual morning wake-up time when the circadian clock is most sensitive to light. This is true no matter what your wake-up time is, as long as it's morning. For people living at northern latitudes where there's very little sun in winter, light therapy boxes – which replicate outdoor light – can be effective.
Cave houses in China
I stumbled upon this Wikipedia page randomly—I had no idea that 40 million people in northern China live in cave houses, or yaodong. These dwellings have been around since the 2nd millennium BC, and they are naturally climate-controlled—cool in the summer and warm in the winter. 40 million people is a lot of people; how did I not know this? Amazing.