Discover more from Beagle Voyage with Jane Liaw
For you who like travel; reflections on parenting; experiments with schooling; curious stories of science, wonder, and fascinating people; and some Pretty Good Things I recommend
How I pack now after doing it a whole lot
Some tips that might be useful if you make similar moves
Hello, friends, from the only Canadian metropolis where snow is a novelty, and drivers (supposedly) don't know how to drive in wintry weather. On Tuesday morning, we woke up to a light layer of snow on the streets, the trees, and the tops of the skyscrapers all around us.
When I dropped Beanie off at Camp Capilano for school, the white dusting on the tall Douglas firs and ferns made the old forest look even more otherworldly. If it weren't for the shouts and footfalls of children playing, these woods would have had the tranquility and stillness that blankets forests in the winter. As it is, the noisy kids made it lovely in a different way.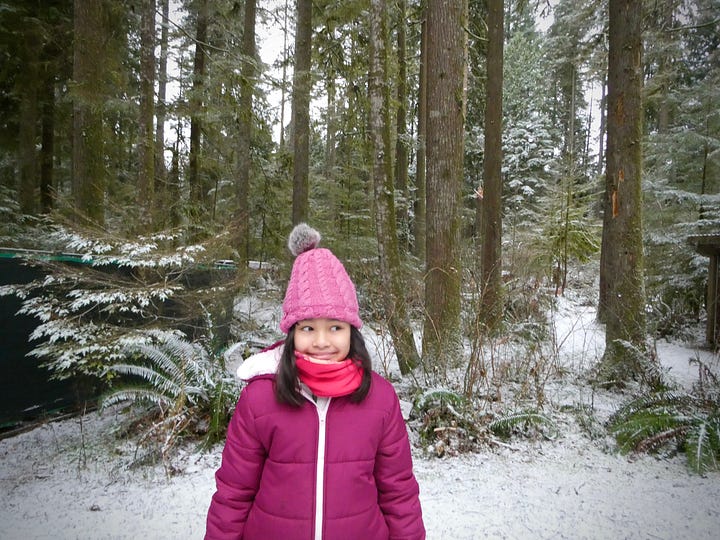 Though we certainly got enough snow that year we were in Collingwood, Ontario, this little bit of snow in Vancouver is a different sort. Just a thin layer, and by Tuesday night much had melted away. I walked along the seawall in the afternoon and though the snow on the palm leaves was gone, there was still some on the ground. I took some pictures because…it's not everyday you see snow and palm trees together, right?
---
Packing and unpacking and packing and unpacking
We're about halfway through our nomadic year now. Though we haven't made that many big moves, each location has included its own mini-moves. With another relocation imminent this weekend, we'll soon have lived in five places over seven months, not including hotel stays and family visits. During the 2020-2021 school year in Collingwood, we moved houses five times too.
I do the packing for our family, so it feels like packing and unpacking loom large in my life these days. I can't claim to be an expert, as I'm only marginally better than I was before; I'm still— somehow!—surprised at the end of every packing job about how much time the tail end takes. That last bit where I'm collecting uncharacterizable objects and wrapping bottles of sauces from the kitchen is the part that feels like it'll never end.
Still, I now have a bit of experience packing for long trips. A friend (Hi Roberta!) asked me to give packing tips, so here are some things I've learned:
Get a luggage scale—this is an obvious one, but a luggage scale is inexpensive and worth it to never experience repacking your suitcase in a panic at the luggage check-in counter.

Use compression bags for bulky items like towels, sweaters, and winter jackets. They really work to save space.

…but with a caveat: If your suitcase is up to 26" in height (often labeled as "medium check-in" size), you can use compression bags and not worry too much about weight. Above that size, I've found weight to be more of a restriction than capacity. I place light items in our 29" suitcase and don't use compression bags, in case I pack too much and go over the airline 50 lb baggage weight limit.

Roll the clothes that won't get super wrinkly, and divide types of clothing into different travel organizer cubes. I pack all of Beanie's rolled clothes (which are much smaller than mine) into cubes, but only my innerwear goes in cubes—the cubes don't fill a suitcase completely, so putting everything in them isn't the most efficient use of space. YMMV.
If you use glass toiletries, keep the original cardboard boxes they came in so you can pop them back in when you pack. I'm lazy and that's the easiest thing to do. If you don't have the boxes anymore, wrap the glass in your socks and seal them in a Ziploc bag.

Take the cap off your shampoo bottle and other bottles that might leak, place a little cling wrap across the top, then replace the cap and pop the whole thing in a Ziploc bag.

Bring extra Ziploc bags of different sizes. They serve all kinds of purposes, including storing small items that might otherwise get lost, like earrings or a kid's newly-lost tooth.
A while back, I posted the list of things we bring with us on these long trips, including our own spatulas, bath towels, and Aeropress.
Of the myriad items on the list, the one that makes the biggest difference to our quality of day-to-day living is our knife set. We use these knives every day, several times a day. We've been lucky to have good landlords so far and stayed in some beautiful places. However, these beautiful places are often not kitted out for people to actually live in. Our current Airbnb has one knife, and it is this:
This Betty Crocker knife is very blunt. We tried it once but it was too dangerous to use.
If I could only bring one creature comfort from home, it would be our knife set—two chef's knives, one paring knife, one meat/butcher knife, and one bread knife, all in an inexpensive knife roll bag I got off Amazon.
I didn't spring for a knife bag in Collingwood and instead wrapped the knives with towels and rags every time we moved. I was being ridiculous. The knife bag saves me time and saves me from being cut. Wish I had bought it sooner. So:
If you're staying somewhere with a kitchen and plan to cook, bring a knife set in a knife bag. If you don't want to bother bringing a whole set of knives like we do, the one item that is useful above all else is a good chef's knife. Assuming you're checking in your luggage, bring a chef's knife and meal prep will be much more joyful.

For most other things, the dollar store is your friend. For 50 bucks, you can get a lot of household basics. My favorite dollar store is the Japanese chain Daiso. When we moved in to our current downtown Vancouver apartment, it didn't have enough drawers and almost no hangers, so I bought about 40 hangers and some of these storage bins for our clothes from Daiso:
Discount stores like Ross and TJ Maxx (and up here in Canada, Winners!) are also great for quality kitchen and homeware for cheap—we've bought measuring cups, silicone spatulas, pots and pans, oven mitts, and more at these stores. Also, robes and fuzzy slippers for winter living. Sometimes they have good spice and snack aisles too.

For those of you with little kids, these car safety restraints have been very useful in our travels. Beanie started using the RideSafer vest when she was not yet three years old, and she graduated to the mifold when she was about six. (RideSafer also has larger sizes, all the way up to 110 lbs/62 inches tall, but it's considerably more expensive than a mifold so we didn't buy another after Beanie outgrew the small one).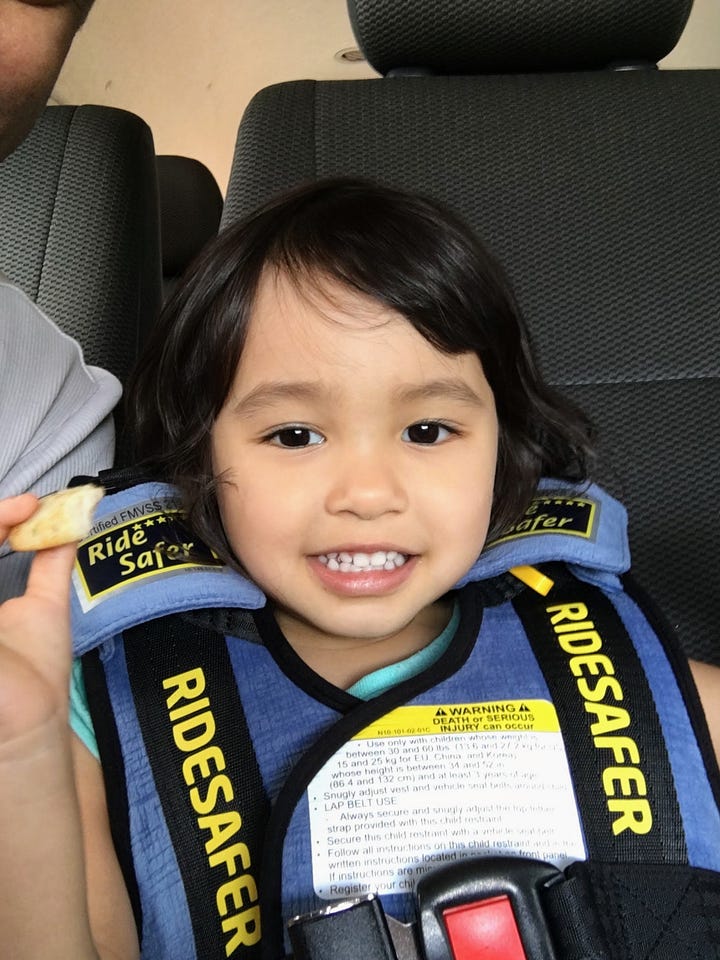 Those are the tips I can think of for now. I haven't started packing yet for our move this weekend. As usual, I'm riding high on confidence that it won't take me too long—let's see if I'm singing a different tune on Saturday night, as I tackle that never-ending long tail of random stuff that goes wherever I go.
Pretty Good Things
Last week, I mentioned the Korean and Japanese homemaking videos I've watched for several years. They're beautifully shot, relaxing, and I like putting them on in the background while I cook or clean (or pack!), as inspiring companions when I'm not feeling inspired to get through my chores.
Beware, though, that their houses look perfectly pristine even before they start sweeping and sponging. Not for them the sticky counters and streaky, cloudy shower glass that my home has before I wipe them down. It's either the magic of pretend or these ladies' houses just always sparkle because of the constant cleaning. I guess seeing enormous dustballs and loose Legos all over the floor would ruin the relaxing vibe for us viewers.
Another interesting feature of these videos is that you never see the vloggers' faces. They're anonymous, and their channels are about their surroundings and their food and sometimes their families, but not about them.
On long winter evenings during the pandemic, these quiet home-focused videos made me feel more content to be stuck inside as I tried to create my own hygge environment with candles and books. Since then, this genre of video has grown beyond Asia, and I follow a few YouTubers of this ilk who live in Europe too.
Some of my current favorites are:
haegreendal—I think of her as the OG Korean cozy-vlogger. I started watching her when her channel was much smaller; since then, she's been featured in the New York Times and other major media outlets, and she has a huge following. She hasn't posted on Youtube for a while (she's more active on Instagram), but she's still one of the best.
hamimommy—also a very popular vlogger from Korea.
nushitoneko—she escaped an abusive marriage and is starting over in Tokyo as a single working woman, with two cats. Her videos are mostly of the meals she cooks and of her sitting at her laptop working, but they are strangely captivating. Her food looks good!
nekoniwa3—she lives in the Japanese countryside and her videos are a wash of warm colors.
Cybele—A Filipina living in Oslo, Norway, and Kahvihuone8487, a Filipina living in Finland. Spare, white aesthetic.
Bayoona--a Turkish woman living in the UK. She makes delectable meals.